Welcome to the Brown's Chapel Library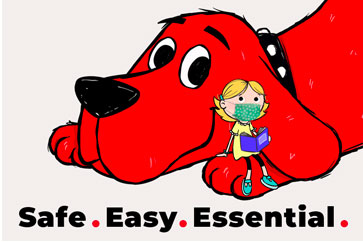 Scholastic Book Fair- In Person and Online
Join us in celebrating 100 years of Scholastic Book Fairs! 
* Information has been sent home with students who attend in person.  Click the link below to access that information. 
* Students may place orders online for home delivery, in person during their scheduled library class, or by filling out the order form and giving it to their teacher.
Video Message from Mrs. Barlow (watch Me first!!!)
(click the link to the right, titled "Book Fair Parent Preview"
Information (click the document entitled "Book Fair Fall 2020-in the right side bar)
Photos of our In School Fair (Document titled "Book Fair Photos Fall 2020" at the right, under my photo. Use this to fill out order form.)
eWallet information(click to learn more about this wonderful, paperless payment option)
One of my favorite Author/Illustrators has posted several of her books, read by her.  I recommend enjoying any and all that are available.  She is an amazing storyteller!
Mrs. Barlow Reading- "Stand Back Said the Elephant! I'm Going to Sneeze"
READING RESOURCES
(Click on the resource title and it will take you to the web page.)
*Visit rclstn.org and click on eCard to get your library card. It will give you access to resources from the public libraries in Rutherford County as well as the region.
This resource is great for research as well as access to the FREE TumbleBook library, which has picture books as well as chapter books!